My New "Must Read"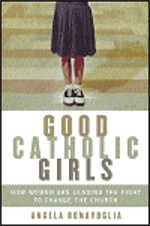 How is it that with any trip to the bookstore (whether bricks or clicks) you end up looking at something that is about as far away as possible for the "thing" you originally walked in for? Such is the case this evening, as I was searching amazon.com for upcoming book club selections. Somehow, I found my way to this recent release --
Good Catholic Girls
by Angela Bonavoglia. It's not a book club selection, but I've added it to my "must read" list.
The Publishers Weekly review grabbed my attention:
A seasoned journalist who writes on social and religious issues, Bonavoglia interviewed hundreds of Catholic women—some in their 20s, most middle-aged or older, some traditionalist, most progressive—in order to show "how the Church has tried to silence women through time... and how Catholic women, undaunted, have persevered."
But the thing that made me really want to read it were the reviews, which ranged from five stars to one. This one-star blast made me get out my credit card:
More feminist propaganda


It is interesting how Ms. Bonavoglia is writing so much misinformation regarding the Catholic Church. However, "good" Catholic women would know better than to read and listen to this misinformation. Hopefully other "good" christians and nonchrisitans will also get the point. This is the same, old, boring feminist information that has been spreading since the 60's. Luckily for real Catholics, these people are getting older and are quickly dying out while the young of the church are standing strong.



If you want to get my attention, all you need to do is tell me I "should know better" than to read something! Call it "feminist propaganda" and insinuate that I'm near death's door (and that's a good thing) and there's no stopping me!
While I await the arrival of my next read, I'm enjoying this quote from a 5-star review about the Good Catholic Girl stories:
Dignity Restored


The women we meet are not leaving the Church and yet they are not staying--they are changing the Church while their work moves and alters everything and everyone it passes. Write on, Angela!
Write on, indeed. Now, I wish I could remember what my next book club book is. Back to Amazon!