Sponsoring Claire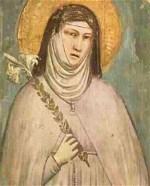 My godchild asked me to be her Confirmation sponsor. We attended the ceremony last night, and it was a very special evening. I was quite proud to stand with my hand on the shoulder of this young woman and hear her say the words I said for her at her baptism some dozen years ago.
I presented her to the Archbishop as Claire of Assisi, which was the confirmation name she chose. She learned much about St. Claire in her confirmation studies, most notably that St. Claire is the patroness of television. (Judging by the quality of the stuff the networks are churning out these days, I'm wondering if St. Claire has been on hiatus!) Being a curious sponsor, I surveyed the web to discover St. Claire is also the patron saint of needleworkers, sore eyes (those two go together), goldsmiths, telephones and good weather. Her name means bright and brilliant – two words that definitely describe my goddaughter.
As the saintly legend goes, late in her life Claire of Assisi was too ill to attend Mass. While she missed the Mass, a vision of the sermon appeared on her wall: 13th century television!