Heavenly Brew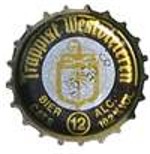 It's Friday! So, we're serving up suds here in the Cafeteria. Here's a good TGIF happy hour story with a Catholic bent, from Yahoo News:

Monks at a Belgian abbey have been forced to stop selling their famous beer after it was voted the best in the world and was promptly sold out.

The abbey of Saint Sixtus of Westvleteren in western Belgium is home to some 30 Cistercian and Trappist monks who lead a life of seclusion, prayer, manual labor -- and beer-brewing.

A survey of thousands of beer enthusiasts from 65 countries on the RateBeer Web site (www.ratebeer.com) in June rated the Westvleteren 12 beer as the world's best.

But the abbey only has a limited brewing capacity, and was not able to cope with the beer's sudden popularity.

"Our shop is closed because all our beer has been sold out," said a message on the abbey's answering machine, which it calls the "beer phone."

And the abbey has no intention of boosting its capacity to satisfy market demand.

"We are not brewers, we are monks. We brew beer to be able to afford being monks," the father abbot said on the abbey's Web site.

Monk Mark Bode told De Morgen daily: "Outsiders don't understand why we are not raising production. But for us life in the abbey comes first, not the brewery."
Curious about this holy sold out brew, I checked out a few reviews. This one, from the Oxford Bottled Beer Database ,was my favorite:

The nose is chiefly of dark fruit, with rich spirit notes giving a fair idea of the strength. The richness continues onto the palate, with dark chocolate and raisiny, puddingy flavours, and hints of cheese, in the manner of a doppelbock. Despite its smoothness, it has a spirit-like mouthfeel and is almost reminiscent of a fortified wine. Finish is extended, warm and malty, fading into a rich caramel and vanilla aftertaste. A beer worth trying, if you can find it; rich and fruity. An ideal way to idle away a cold winter's evening.
Sounds heavenly, doesn't it?
Cheers!