All Creatures Great and Small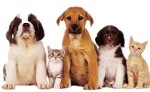 Another confession: I'm an animal lover. I think it's perfectly normal to, as my husband says, "have livestock in the house." That's the bottom line: Pets are great.
Pat at
No Claim to Sainthood
celebrates the memory of golden retreiver Good Old Boy with
7 reasons
why pets are great, and how that can apply to a relationship with God. From
Unconditional Love
to
Stewardship
, it's a delightful list.
What do you love best and learn most from your pets?