Ah! Spa.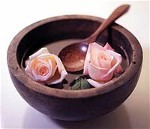 Things have been pretty tense lately. Everywhere you look, so it seems, there's plenty of stress and strain.
What's a good Cafeteria Catholic to do?
Head for a spiritual spa.
Just such a place exists, according to a recent
article
in the Palm Beach Post.
For more than 40 years, the
Cenacle
Retreat House in Lantana, FL has offered a place of solace and renewal for more than 10,000 visitors every year.
The article recants the stories of three retreat visitors -- each more enrolling than the next. Patti Mulhall frequently makes the trek from her home in Boca Raton.
"You don't get distracted at the Cenacle," she says. "It's like a spiritual spa. When I leave, I'm refreshed. I'm uplifted."
For Robert Patterson, the Cenacle has provided a spiritual catalyst for a life of recovery.
"The setting is so tranquil. It's filled with peace," Patterson says. "It's absolutely a beautiful place to just have some free time. There have been quite a few times when I just pulled in, walked around, sat down, had a little prayer, a little talk with God.
Patterson describes the place as "just a nice little oasis."

Sounds perfect, doesn't it?

Where do you head when you're in need of a retreat? What do you to to recharge your spiritual batteries?