Theology on Tap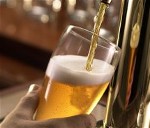 Yesterday's Washington Post had
an interesting column
about how today's churches are helping people find faith outside the confines of the walls of a church. The article featured examples of church ministry that ranged from aviation to golf -- whatever it takes to integrate the church into members' (and potential members') lives.
Of course, the Catholic church is doing its thing. The column highlighted an activity that made me smile:
To reach twenty-somethings, the Roman Catholic Archdiocese of Washington sends clergy into bars. The program, called "Theology on Tap," was started several years ago by the Archdiocese of Chicago. Washington Cardinal Theodore E. McCarrick is sometimes the featured guest and typically draws a standing-room-only crowd of more than 500 as he delivers a light sermon and fields questions, said archdiocese spokeswoman Susan Gibbs.
Where was this ministry when I was in college?