Cafeteria Catholic
A lifelong Catholic serving up cafeteria food for thought whenever the spirit moves me. Grab a tray and come through the line. This cafeteria is definitely OPEN!
Saturday, September 16, 2006
Thursday, September 07, 2006
Fa la la la la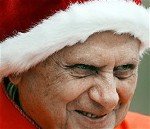 More music news. This from the
World Entertainment News Network
:
Pope Benedict XVI has cancelled the Vatican's traditional Christmas concert this year because he doesn't like pop music.

Acts including Simply Red and Ronan Keating were due to appear at the fundraising gig this December.

But the Pope has deemed the event unsuitable for the surroundings, and the concert will now be held in Monte Carlo.

An insider says, "The officials reasons is that it has run its course but the Pope is not a fan of popular music."
Well,
we already knew that
. Didn't we?